2019 Restaurant Design Trends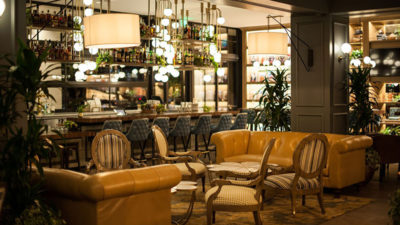 Although the reputation of restaurants depends mainly on the quality and taste of food, don't underestimate the important role of atmosphere in the perspective of customers. Outdated decoration, inappropriate lighting and too little space can make you feel unhappy or bored when eating in a restaurant.
We don't want to see you lose business because of something easy to repair, so please try the trend of restaurant design in 2019 to bring energy and temptation back to your business.
The industrial appearance of wood, brick and bare bulb is out of date. Instead, the vibrant and loud decorations in 70s and 80s. Think of neon lights, metallic colors, sea squirt prints, bold designs and coloured walls. This magnificent atmosphere will surely attract attention in an interesting and memorable way and allow customers to come back and have a good time.
However, if this method does not match the tone of your location, you can still stay away from the white walls and adopt rich dark tones.
As more and more people care about the environment and want to keep in touch with nature, more restaurants are showing plants and flowers. Purposeful placement of green plants creates a calm and soothing atmosphere and is linked to outdoor activities indoors.
Plants can also be used for practical purposes, purify the air or provide on-site herbal medicine for cooking. In this healthy era, this will help your food look fresh and clean.
People go to restaurants for practical and casual reasons. They want fast and convenient meal time and sit down to enjoy the company's time. Technology meets these needs. Tablet computers in the form allow customers to order quickly. The device also provides entertainment through games, waiting for food to pass quickly, especially for children, so parents can have a quiet moment.
Day and nighttimesettings
Most places are either built during the day or built at night. Restaurants in 2019 are learning how to integrate the two settings into one muti-functional place to meet customer needs. Leisure lobbies are ideal for friendly parties or fast food, while more private back areas are ideal for appointments and formal business appointments.
Various types of food halls
We are used to independent restaurants and shopping malls. The Food Hall is an exquisite version of the Food Square. It has many restaurants and public dining halls in one building. However, food halls usually provide specific types of delicacies, as well as food markets, handicraft products and other relevant suppliers.
This year you can expect food choices in these places to become more diverse, rather than focusing on one theme. Joining the food hall can be a great opportunity to expand customer base and present contemporary style.